That's right, you get to see what happens after the SPACE ENDING of Kill Baby Hitler.
In a sequel whose premise is entirely based on an Easter Egg!
Again, you get 4 endings.
There are countless ways to die. I will add extra medals for those at some point. Tons of new songs. I listed most of them on the page but not all, cause some of them play only during endings so I didn't want to spoil.
There is still one big area of the game I didn't have time to complete, but I decided to rush it so I can release it for pixelday2020. Since I produced all the art in 64x64 pixels, I thought this would be fitting.
The missing area is optional to finish the game, but I'll try to add it soon, along with all the extra medals.
So yeah, please check the game and leave a comment! You can also chime in on the game's community thread here:
https://www.newgrounds.com/bbs/topic/1448528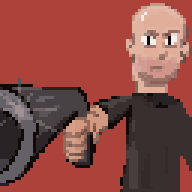 Have a nice day!